Refill Conditioner Planet Pleaser
Regular price

Sale price

€22,00 EUR
250ml
For all hair types. Less stress, more time to shine.
What good does it do?

Smoothens | Moisturizes | Repairs | Detangles | Anti-Frizz
Full ingredients list

AQUA (WATER), CETEARYL ALCOHOL*, GLYCERIN*, INULIN*, BEHENTRIMONIUM METHOSULFATE, ACTINIDIA CHINENSIS (KIWI) FRUIT WATER*, CETYL ALCOHOL*, HELIANTHUS ANNUUS (SUNFLOWER) SEED OIL*, COCOS NUCIFERA OIL*, ARGANIA SPINOSA KERNEL OIL*, PUNICA GRANATUM FRUIT EXTRACT*, PANTHENOL, TOCOPHEROL*, LAURYL/MYRISTYL POLYRICINOLEATE*, POLYGLYCERYL-4 LAURATE/SEBACATE*, POLYGLYCERYL-6 CAPRYLATE/CAPRATE*, SODIUM LEVULINATE*, PARFUM**, GLYCERYL CAPRYLATE*, BUTYLENE GLYCOL, CITRIC ACID*, SODIUM BENZOATE, POTASSIUM SORBATE, GERANIOL*

* Ingredients of natural / plant origin

** Certified perfume for Natural cosmetics
Shipping and payment

All orders for Switzerland are shipped within 48 business hours from our Warehouse. Shipping times vary depending on where you are, but normally it will take from 2 to 4 days.
We accept credit card, PayPal, Google Pay, Apple Pay, Twint and Klarna.
HOW TO REFILL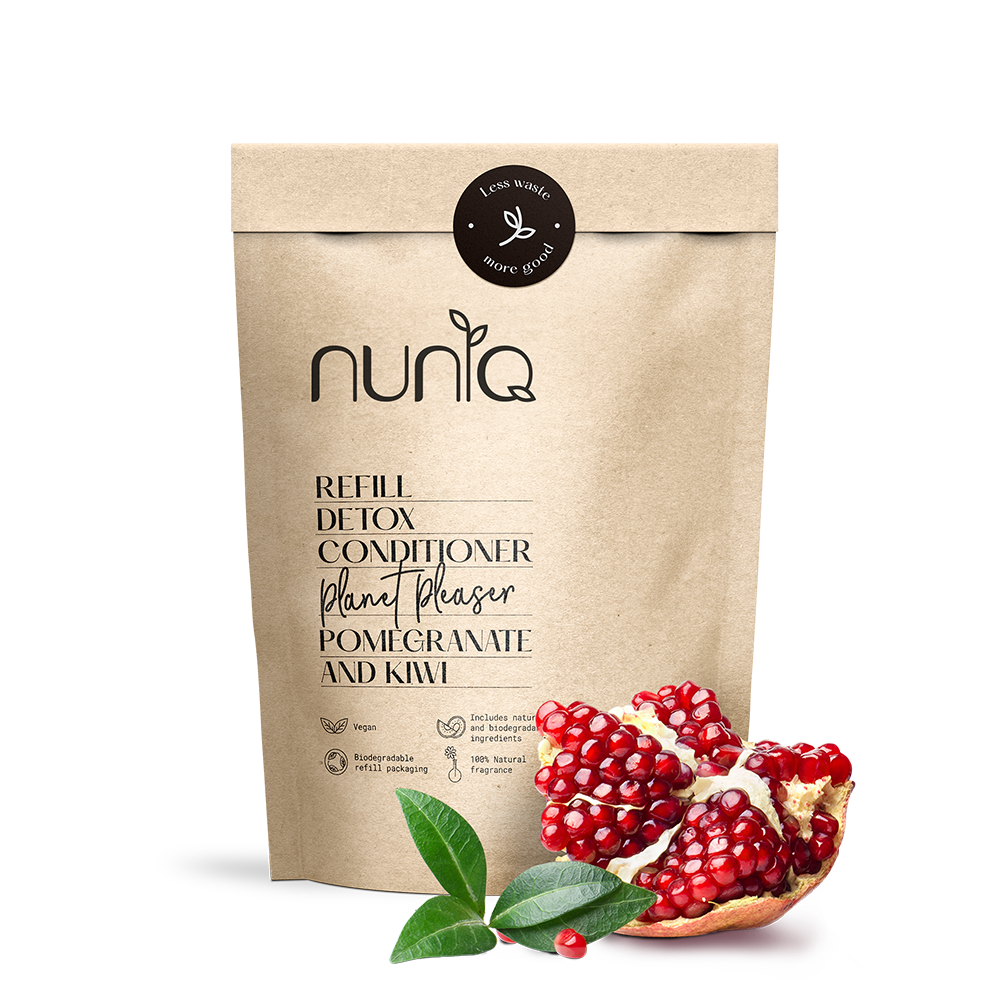 Made with good karma
What's it all about?

This multitasking conditioner is your secret to soft, smooth, shiny, moisturized and frizz-free hair. Infused with deeply caring and ultra-nourishing oils from sunflower, coconut and argan for an oh so smooth feel + packed with deep cleansing and detoxifying ingredients for freshness and cleanliness you can see, touch, smell, and feel. Confidence guaranteed. Made for: The ones who'd rather shine all day long. Made of: Plant-based superfoods to fruit up your haircare. High in quality and naturality.
So, how do I use it?

Apply evenly through damp hair after shampooing with Nuniq Planet Pleaser Detox Shampoo for a refreshing clean + super smoothness. Rinse. For every day or every now and then. External use. Avoid contact with the eyes.
How to refill?

It's as simple as brewing your morning cup of coffee. Add your refill to the original Nuniq Shampoo glass bottle. Remember to rinse well before refilling. Once opened, don't leave the product in the refill bag. Made for a good time, a long time, or for as long as you like.
As for the emptied refill?

We make it easy for you to be good to the planet. Simply put the bag in a normal waste bin. Yes, really. This way, whether it ends up in oceans, lakes, landfills, swamps or forests, the full bag – including zipper – will biodegrade. Look good and feel better knowing that with every bag disposal, you're feeding the planet.
What's in it?
Pomegranate Extract

The unsung pomegranate seed holds a mighty blend of vitamins A, B, C and E as well as potassium, magnesium, sodium and calcium. Used in cosmetics to protect hair from pollution and balance hair's sebum activity, keeping hair fresh, healthy, happy, clean. Fewer wash days, anyone?

Kiwi Fruit Water

Plant water extracted from the heart of the kiwi fruit. Due to a carefully curated distillation process, the plant water remains rich in essential oils, trace elements, vitamins and mineral salts. Absorbing these elements, hair repairs, renews, refreshes whilst the kiwi fruit's richness in vitamin C and E helps protect hair from environmental pollution.

Sunflower, Coconut and Argan Oil

Highly nutritious do-it-all oils from sunflower, coconut and argan work together to condition hair and provide styling, flexibility, softness, shine, strength, volume and lightness.
No more Nasties

Say Goodbye to the bad guys. No Microbeads, No Parabens, No Phenoxyethanol, No Triclosan, No Mineral oil, No Silicones, No Sulfates (SLS/SLES), No Formaldehyde, No PEGs

Pretty good to know

Give it 2-3 months for best results. You see, these products work as a powerful detox cure for hair that has endured harsh chemicals found in most hair products for many, many years.
RIP single-use plastic

Single-use plastic is rather ugly. So, we did something about it. Enter the forever recyclable aluminum packaging + reusable glass bottle + biodegradable refill bag.

Press play, then play again

Nuniq products are always up for play. Nicely. Refill, reuse, repeat or recycle should the love not last. Either way, you always win – more time and savings. Feels good doing good, doesn't it?

We adore all animal life

So much so we only test our high-performance beauty on one specimen: Homo Sapiens. We refuse to use any type of animal ingredient. That's 100% vegan and cruelty-free beauty for you.